Your wedding is one of the most memorable days in your life. You'll spend hundreds of hours thinking about your gown's style, wedding theme, venue decorations, reception, food, and guest invitations. The venue is also an important aspect of your wedding plans. You'd want it to complement your theme while providing a stylish and charming ambiance for your guests.
Indoor wedding venues are slowly giving way to outdoor settings ideal for garden, beach, or summer-themed weddings. Handmade decorations, creative drapes, and trendy tents are great ways to spice up your wedding and reception venue. If you're planning a gorgeous outdoor wedding, perhaps complete with a horse and carriage presentation in a Santa Rosa, California garden venue, you can easily find Santa Rosa tent rentals to match your theme and keep your guests under the shade. Here are some popular tent styles that are perfect for wedding receptions.
Frame Tents: A simple yet elegant shelter
The frame tent is by far the most popular tent for weddings and other special occasions. This tent has no center support poles, which gives you more space for dining and dancing. It is ideal for narrow areas such as backyards and for venues with strong or high winds. Frame tents are supported by a sturdy metal frame that doesn't need to be tied down for stability. It is available in several colors (white, clear, and blue) and color combinations (like blue and white, green and white). You can accommodate 40 to 800 guests depending on the frame tent's size.
Tension Tents: Enough for guests and decorations
For a visually striking tent both in the interior and exterior, tent rentals recommend tension tents. It is known for its sculpted roof and high ceiling that gives an airy and open feel. Its generous space leaves enough room for decorations and works well for weddings with a classic, fairytale, or romantic theme. However, tension tents are often used for grand weddings, so it's not a great option if you're planning to tie the knot in a tight budget.
Canopy Tents: Cozy and relaxing
Canopy tents are quick and easy to assemble, ideal for an intimate wedding reception and couples who have limited budget. It consists of a simple overhead roof without interior poles. This gives a roomy feel while keeping the sun or afternoon drizzle away from your guests.
Pole Tents: Traditionally convenient and efficient
Pole tents are affordable and they provide guests with adequate protection from the sun and rain. It has tall center poles that lead to smaller support poles. A tent rental company may need several people to set it up in a large place.
Image: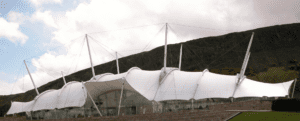 http://imageafter.com/image.php?image=b12architecture_exteriors023.jpg
Photo courtesy of Image After (http://imageafter.com)
Video
Video URL: http://www.youtube.com/watch?v=mia9mMIDNVc
Video courtesy of YouTube (www.youtube.com)
Video owner: getmarriedtv