Do You Have An Upcoming Event Or
Long-term Tent Rental Project We Can Help With?
Commercial Tent Rental Experts
At All Occasions Tents, we specialize in hundreds of different sizes and varieties of tents such as:
High Peak and Clear Span Tents
All New 2012-2013 Catalina
Frame tents
Canopy tents
Pole tents
Tension tents
Custom tents
Metal frame tents are industrial structures. They can go up on a stakeable surface (grass, gravel) or not (concrete, asphalt) using stakes or water barrels depending on the type of surface they're erected on. We offer these structures in sizes ranging from 10′ x 10′ to 50′ x 300′. Any tent rented requiring water barrels will be delivered with slip covers for every water barrel enhancing the look of your event.
Pole or tension tents can only be installed on a stakeable surface (grass, gravel, or dirt) and will have one or more center poles. Their measurements start at 10′x10′ and go up to 100′x300′.
At All Occasions Tents, we also have the unique ability to custom fabricate almost any size and style tent, along with their accessories in house to meet our clients demands.Sidewall Options:
White
A solid white wall will create a focal point to your structure, while obscuring unwanted views. White sidewalls also allow more privacy to your  structure.

Clear
Clear sidewalls allow an unobstructed view of the surroundings, enhancing the beauty of the structure.

White with clear-arched windows
A beautiful way to frame the surrounding area.
All Occasions Tents' sidewalls will maintain a comfortable climate for your guests. Our clear and windowed walls allow you to protect your guests from heat, cold or rain, while still being able to view and enjoy the surrounding environment.
Safety Package Installed With Every Tent Rental
No-smoking signs, exit signs, and fire extinguishers as mandated by the State Fire Marshal.
Tents are an extremely important facility to have especially when you are holding an outdoor event. This is due to the fact that they protect your visitors from harsh weather such as strong sunshine and rain. Choosing to do the work of putting up the tents for yourself has very many disadvantages. To start with, it will take up a lot of your time and energy, which you could use in other preparations. Secondly, if you are not a professional, you are not assured of tent safety. That is the reason why you might need the services of a San Francisco tent rental company.
A good company will help you get the right size of tents to accommodate all your visitors. They will help you pick the colors that go with your desired décor. In addition to that, they will put up the tents and remove them after the event. All you have to do is contact a good San Francisco tent rental company and you will get to enjoy a colorful occasion.
Keep Working In Any Weather
All Occasions Tents has been providing tenting for the construction, industrial, maintenance & utilities industries for the last 23 years. Whether you are a large corporation or small operation, we offer the lowest price guarantee and top notch service.
Whether you need extra high tents to accommodate forklifts or you just need something to keep your staff protected from heat or inclement weather conditions, we have the solution for you.We can even build custom tents if you have highly specialized needs.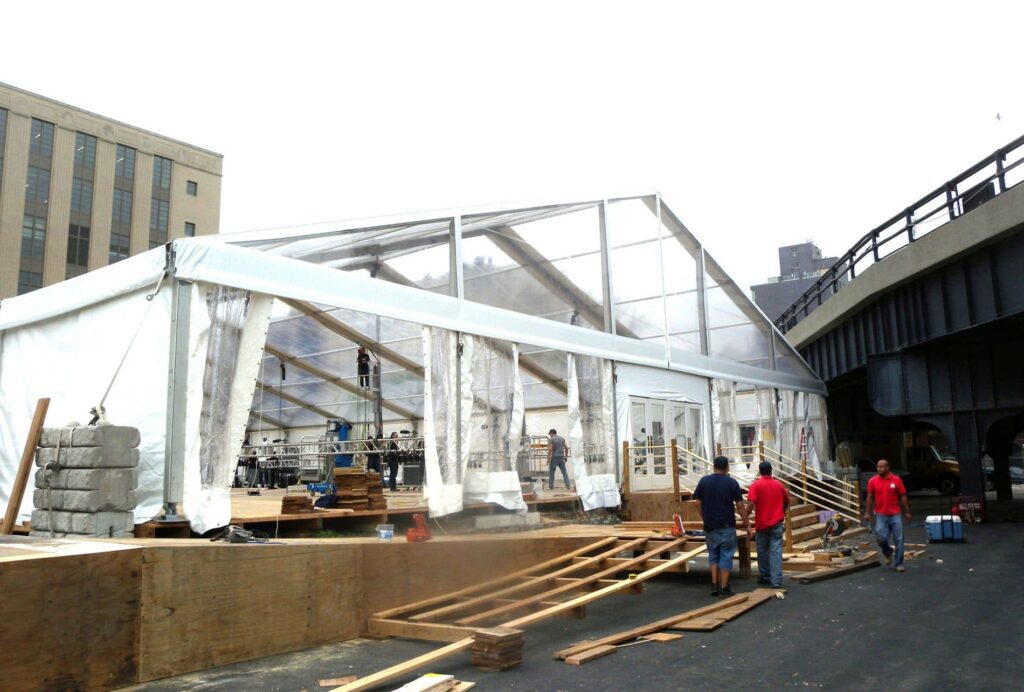 Our extensive experience in corporate tent rental solutions will lead to a beautiful and unique event. Our professional tent rental consultants will assist you with the expertise you expect and deserve. It is our goal to ensure that every detail is addressed and your requirements fulfilled. We take pride in our client's satisfaction!
We can assist you in your own language, whether it is English or Spanish. Our customer service representatives are available to you 7 days a week, 24 hours a day. Feel free to contact us at anytime for a free consultation. Our toll free number is (800) 799-TENT (8368).
We Keep Your Business Running
When California corporations need a semi-permanent of permanent tent solution, they call All Occasions Tents. We are uniquely able to respond quickly to your needs, whether you want a corporate tent rental [LINK] or you require a completely customized tent solution [LINK], we have you covered.
Our long term tent rental clients have used tenting for their corporate needs for weeks at a time and for multiple months and some even more than a year. We have provided long term California tent rentals for the following types of corporations in the following industries:
TV, Film & Entertainment Industry
Hotels
Venues
Music (concerts & fairs)
Construction (storage, construction)
Sporting Events (golf, charitable)
Retail (temporary storefronts)
Auto Dealerships
Non-profits
Our extensive experience in corporate long term tent rental solutions will lead to an optimal solution for your company. Our professional tent rental consultants will assist you with the expertise you expect and deserve. It is our goal to ensure that every detail is addressed and your requirements fulfilled. We take pride in our client's satisfaction!
Flooring / Sub-Flooring
Don't let uneven ground stop you from having your next outdoor event.
At  All Occasions Tents, we can install sub flooring that can give your guests the look and feel of a beautiful flat solid surface.  For more formal events, you may choose to have the sub floor covered with a black AstroTurf top and skirting. This is a very elegant look.
Band Stands/ Performance Staging:
At All Occasions Tents we can provide a stage for your band or performance arts group. Dimensions are limitless and heights can be one or two feet with or without a stair platform.
These stages are all covered with black AstroTurf and skirted as well. They make a very beautiful center piece to your tent showcasing your band, performance arts or DJ as a focal point of your event.
Be sure to ask your sales representative for more details.
We Manufacture Tents For Any Corporate Event, Commercial Or Storage Need
Tents do not just provide shade during parties and events but are also are a major part of the décor. It is with this understanding that we strive to manufacture the very best tents. We emphasize  aesthetic appeal and quality equally.
For custom designs, you can trust us to give you the very best designs and quality. Whatever challenge you give us, we will combine our expertise and experience to give the very best results.
If you are looking for the perfect tents to purchase for your event, you can trust our tent manufacturing techniques to give you the best quality. Our tents are designed to last a long time and can be reused several times which is quite economical. If you prefer to hire, we will give you the best price quote.
In the current world, the demand for sophistication in tents manufacture has become very high. Corporate events and social gatherings alike are getting more sophisticated and specific with the kinds of tents they want to use. We strive to match these needs and give you exactly what you need.
By combining state-of-the-art equipment, quality materials and expert craftsmen, we manufacture unbeatable tents. Whether to be used in snowy winter or in the scorching summer sun, there is a tent to suit your event. Be it a wedding, a birthday party or a corporate meeting just let us know the kind of tents you want and we will manufacture them for you.
We believe the environment must be preserved at all costs. This is why we only use environment-friendly fabrics in making our tents. Their reusability makes them more eco-friendly making the earth a safer place to live in. As for installation of the purchased tents, we do it for you in a manner that does not destroy the environment. Even if your chosen grounds for the event are covered by grass we will take care of every stalk while still creating a picturesque tent arrangement.
Do not just take our word for it. We have many satisfied customers who can vouch for us. We have worked with many private and corporate clients over time and have relied on word of mouth as an indispensable marketing tool. We believe in giving the best to our clients so they can become our advocates and help us reach greater heights in our tent manufacturing and renting endeavors. Contact us today
Event Planning
When it comes to professional planning for large events, requesting All Occasions Tents simplifies the process. Request a FREE quote, or schedule a FREE site evaluation with one of our highly skilled technicians to ensure the right structure for your event or venue.
Trusted By The Best Companies
From fund raisers to outdoor concerts, retail events and corporate events, All Occasions Tent Rental & Sales has provided quality tent rentals for thousands of special events in California – and ensured that those events went smoothly.